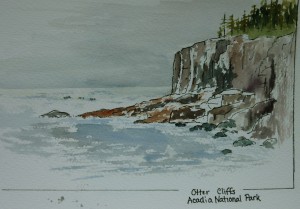 Sometimes everything comes together and you end up with a perfect day of sightseeing.  We had one of those days on Sunday.  Tom and I arrived in Maine late Saturday evening and checked in at the Asticou Inn so late that we couldn't see the surrounding area at all, so Sunday morning we were delighted to pull back the curtains and see a clear blue sky and a harbor full of boats.  The view banished our jet lag, and we quickly ate breakfast and headed out to Acadia National Park.  Here's what we did over the course of the next twenty-four hours:
Drove to the top of Cadillac Mountain to get a bird's eye view of the island
Watched the video at the visitor's center for an park overview
Stopped in Bar Harbor to buy a picnic lunch and stroll through the art festival
Walked along the Shore Path in Bar Harbor
Ate lunch while people and boat watching
Drove the Park Loop, stopping at many lovely places such as Sand Beach, Thunder Hole, Otter Point and Otter Cliffs
Went to the Jordan Pond area and hiked on a carriage road to Jordan Stream to see a beautiful cobblestone bridge
Returned to our hotel to recharge our batteries–including my camera battery
Drove to the lighthouse at Bass Harbor to watch the sunset
Ate dinner in Southwest Harbor at Seafood Ketch
Went stargazing at the Seawall picnic area where astronomers had set up telescopes for viewing during a dark sky event
Slept a few hours
Drove back to the top of Cadillac Mountain to watch the sunrise
Did a quick hike near Jordan Pond.
And that was twenty-four perfect hours in Maine.  I would have a tough time choosing a favorite part of the day, but watching  the sun set behind a lighthouse and seeing the Milky Way so clearly for the first time in years were truly memorable.  I felt so grateful for the beauty that God has given us in this world and beyond…and that I can share it with such a special person.
The rest of the week has been pretty close to perfect, too!